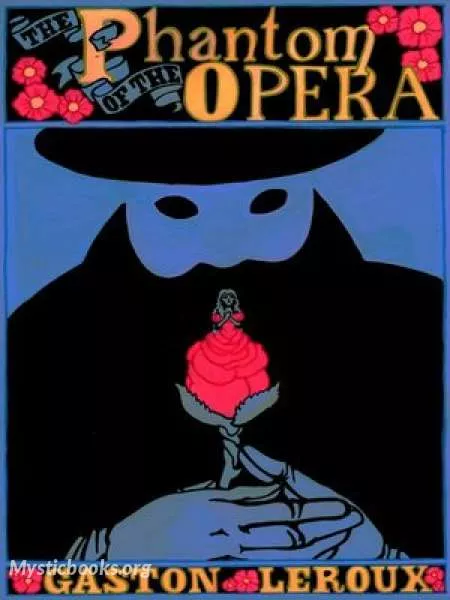 The Phantom of the Opera
A masterly mix of romance, drama, mystery, suspense, love and jealousy, The Phantom of the Opera by Gaston Leroux will haunt you long after you've turned the last page. Today the world knows it by Andrew Lloyd-Webber's long running musical on stage and its 2004 film adaptation, and earlier from Lon Chaney's screen portrayal of the dark intruder who roams the Paris Opera House. However, Gaston Leroux's novel was first released as a serial in the French magazine, La Gaulois over four months in 1909-10. Gaston Leroux, himself led an extremely colorful life. Born into an immensely wealthy family, he had to abandon his early dreams of becoming a writer and began studying law. As a student, he inherited millions of francs on the death of his father and embarked on a debauched life which culminated in bankruptcy. Leroux then went to work as a journalist. He covered crime and theater and traveled extensively. He was almost forty when he took up writing as a full time profession. Detective fiction, plays, novels and tales of mystery were his forte. The Phantom of the Opera was translated from the original French by Alexander de Mattos. A tale of fatal obsession, it owes its inspiration to classic fairytales like The Beauty and The Beast, where physical ugliness leads a person to seek anonymity. Erik is a young man, tormented by his physical deformity. He runs away from home as a child and hides his hideous visage in the vast cellars of the Paris Opera House. As he grows, so does his knowledge of music. He falls in love with a young singer, Christine Daae, whom he lures into his lair with his angelic singing. This fatal attraction takes a tragic turn as Christine and her fiancé Raoul are caught in a web of horror and deceit. As a classic Gothic novel, The Phantom of the Opera is matchless in the atmosphere of mystery and evil that it evokes. However, it is also a story of human tragedy and the cruelty we practice on those who look different. The novel is structured in a very interesting way—it's in the form of bits of information available from journal entries, police reports, interviews alternating with first person accounts. A great read for music lovers, mystery fans and Gothic romance enthusiasts!
'The Phantom of the Opera' Summary
In the 1880s, in Paris, the Palais Garnier Opera House is believed to be haunted by an entity known as the Phantom of the Opera, or simply the Opera Ghost. A stagehand named Joseph Buquet is found hanged, the noose around his neck missing.
At a gala performance for the retirement of the opera house's two managers, a young, little-known Swedish soprano, Christine Daaé, is called upon to sing in place of the Opera's leading soprano, Carlotta, who is ill, and Christine's performance is an astonishing success. The Vicomte Raoul de Chagny, who was present at the performance, recognizes her as his childhood playmate and recalls his love for her. He attempts to visit her backstage, where he hears a man complimenting her from inside her dressing room. He investigates the room once Christine leaves, only to find it empty.
At Perros-Guirec, Christine meets with Raoul, who confronts her about the voice he heard in her room. Christine tells him she has been tutored by the Angel of Music, whom her father used to tell them about. When Raoul suggests that she might be the victim of a prank, she storms off. Christine visits her father's grave one night, where a mysterious figure appears and plays the violin for her. Raoul attempts to confront it but is attacked and knocked out in the process.
Back at the Palais Garnier, the new managers receive a letter from the Phantom demanding that they allow Christine to perform the lead role of Marguerite in Faust, and that Box 5 be left empty for his use, lest they perform in a house with a curse on it. The managers assume his demands are a prank and ignore them, resulting in disastrous consequences, as Carlotta ends up croaking like a toad, and the chandelier suddenly drops into the audience, killing a spectator. The Phantom, having abducted Christine from her dressing room, reveals himself as a deformed man called Erik.
Erik intends to hold her prisoner in his lair with him for a few days. Still, she causes him to change his plans when she unmasks him and, to the horror of both, beholds his noseless, sunken-eyed face, which resembles a skull dried up by the centuries. Fearing that she will leave him, he decides to hold her permanently, but when Christine requests release after two weeks, he agrees on the condition that she wear his ring and be faithful to him.
On the roof of the Opera House, Christine tells Raoul about her abduction and makes Raoul promise to take her away to a place where Erik can never find her, even if she resists. Raoul tells Christine he will act on his promise the next day, to which she agrees. However, Christine sympathizes with Erik and decides to sing for him one last time as a means of saying goodbye. Unbeknownst to Christine and Raoul, Erik has been watching them and overheard their whole conversation.
The following night, the enraged and jealous Erik abducts Christine during a production of Faust and tries to force her to marry him. Raoul is led by a mysterious Opera regular known only as "The Persian" into Erik's secret lair deep in the bowels of the Opera House. Still, they end up trapped in a mirrored room by Erik, who threatens that unless Christine agrees to marry him, he will kill them and everyone in the Opera House by using explosives.
Christine agrees to marry Erik. Erik initially tries to drown Raoul and the Persian, using the water which would have been used to douse the explosives. Still, Christine begs and offers to be his "living bride," promising him not to kill herself after becoming his bride, as she had just attempted suicide. Erik eventually releases Raoul and the Persian from his torture chamber.
When Erik is alone with Christine, he lifts his mask to kiss her on her forehead and is eventually given a kiss back. Erik reveals that he has never kissed anyone, including his own mother, who would run away if he ever tried to kiss her. He is overcome with emotion. He and Christine then cry together, and their tears "mingle." She also holds his hand and says, "Poor, unhappy Erik," which reduces him to "a dog ready to die for her."
He allows the Persian and Raoul to escape, though not before making Christine promise that she will visit him on his death day and return the gold ring he gave her. He also makes the Persian promise that afterward, he will go to the newspaper and report his death, as he will die soon "of love."
Indeed, sometime later, Christine returns to Erik's lair, and by his request, buries him someplace where he will never be found, and returns the gold ring. Afterward, a local newspaper runs the simple note: "Erik is dead." Christine and Raoul elope together, never to return.
The epilogue pieces together bits of Erik's life, information that "the narrator" obtained from the Persian. It is revealed that Erik was the son of a construction business owner, deformed at birth. He ran away from his native Normandy to work in fairs and caravans, schooling himself in the arts of the circus across Europe and Asia, and eventually building trick palaces in Persia and Turkey. Eventually, he returned to France and started his own construction business. After being subcontracted to work on the Palais Garnier's foundations, Erik had discreetly built himself a lair to disappear in, complete with hidden passages and other tricks that allowed him to spy on the managers.
Book Details
Author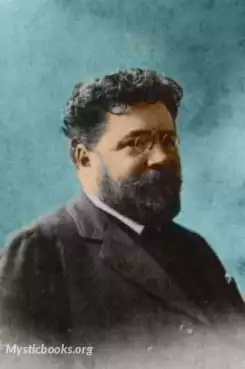 Gaston Louis Alfred Leroux was a French journalist and author of detective fiction. In the English-speaking world, he is best known for writing the novel The Phantom of the Opera (Le Fantôme de...
More on Gaston Leroux
Download eBooks
Listen/Download Audiobook
Reviews for
The Phantom of the Opera
No reviews posted or approved, yet...