 The Rough Riders
Theodore Roosevelt's personal account of The Rough Riders, the name affectionately bestowed on the 1st United States Volunteer Cavalry, one of three such regiments raised in 1898 for the Spanish-American War and the only one to see action. Roosevelt, serving first as Lt. Colonel and 2nd in command, gives a rousing depiction of the men and horses, equipment, talent, their trip to Cuba, battle strategies, losses, injuries and victories. He says: "In all the world there could be no better material for soldiers than that afforded by these grim hunters of the mountains, these wild rough riders of the plains . . accustomed to handling wild and savage horses . . to following the chase with the rifle, both for sport and as a means of livelihood . . they were hardened to life in the open, and to shifting for themselves under adverse circumstances . . My men were children of the dragon's blood, and if they had no outland foe to fight and no outlet for their vigorous and daring energy, there was always the chance of their fighting one another: but the great majority, if given the chance to do hard or dangerous work, availed themselves of it with the utmost eagerness."
Book Details
Author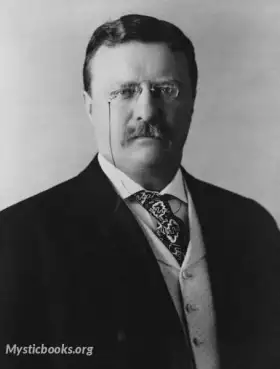 Theodore Roosevelt Jr. often referred to as Teddy or his initials T. R., was an American statesman, conservationist, naturalist, historian, and writer, who served as the 26th president of the United S...
More on Theodore Roosevelt
Download eBooks
Listen/Download Audiobook
Reviews for
The Rough Riders
No reviews posted or approved, yet...