 The Secret Garden
One of the most delightful and enduring classics of children's literature, The Secret Garden by Victorian author Frances Hodgson Burnett has remained a firm favorite with children the world over ever since it made its first appearance. Initially published as a serial story in 1910 in The American Magazine, it was brought out in novel form in 1911. The plot centers round Mary Lennox, a young English girl who returns to England from India, having suffered the immense trauma by losing both her parents in a cholera epidemic. However, her memories of her parents are not pleasant, as they were a selfish, neglectful and pleasure-seeking couple. Mary is given to the care of her uncle Archibald Craven, whom she has never met. She travels to his home, Misselthwaite Manor located in the gloomy Yorkshire, a vast change from the sunny and warm climate she was used to. When she arrives, she is a rude, stubborn and given to stormy temper tantrums. However, her nature undergoes a gradual transformation when she learns of the tragedies that have befallen her strict and disciplinarian uncle whom she earlier feared and despised. Once when he's away from home, Mary discovers a charming walled garden which is always kept locked. The mystery deepens when she hears sounds of sobbing from somewhere within her uncle's vast mansion. The kindly servants ignore her queries or pretend they haven't heard, spiking Mary's curiosity. The Secret Garden appeals to both young and old alike. It has wonderful elements of mystery, spirituality, charming characters and an authentic rendering of childhood emotions and experiences. Commonsense, truth and kindness, compassion and a belief in the essential goodness of human beings lie at the heart of this unforgettable story. It is the best known of Frances Hodgson Burnett's works, though most of us have definitely heard of, if not read, her other novel Little Lord Fauntleroy. The book has been adapted extensively on stage, film and television and translated into all the world's major languages. In 1991, a Japanese anime version was launched for television in Japan. It remains a popular and beloved story of a child's journey into maturity, and a must-read for every child, parent, teacher and anyone who would enjoy this fascinating glimpse of childhood.
'The Secret Garden' Summary
At the turn of the 20th century, Mary Lennox is a neglected and unloved 10-year-old girl, born in British India to wealthy British parents who never wanted her and made an effort to ignore the girl. She is cared for primarily by native servants, who allow her to become spoiled, demanding, and self-centered. After a cholera epidemic kills Mary's parents, the few surviving servants flee the house without Mary.
She is discovered by British soldiers who place her in the temporary care of an English clergyman, whose children taunt her by calling her "Mistress Mary, quite contrary". She is soon sent to England to live with her uncle, Archibald Craven, whom her father's sister Lilias married. He lives on the Yorkshire Moors in a large English country house, Misselthwaite Manor. When escorted to Misselthwaite by the housekeeper Mrs Medlock, she discovers Lilias Craven is dead and that Mr Craven is a hunchback.
At first, Mary is as sour and rude as ever. She dislikes her new home, the people living in it, and most of all, the bleak moor on which it sits. Over time, she befriends her maid Martha Sowerby, who tells Mary about Lilias, who would spend hours in a private walled garden growing roses. Lilias Craven died after an accident in the garden ten years prior, and the devastated Archibald locked the garden and buried the key.
Mary becomes interested in finding the secret garden herself, and her ill manners begin to soften as a result. Soon she comes to enjoy the company of Martha, the gardener Ben Weatherstaff, and a friendly robin redbreast. Her health and attitude improve with the bracing Yorkshire air, and she grows stronger as she explores the estate gardens. Mary wonders about the secret garden and about mysterious cries that echo through the house at night.
As Mary explores the gardens, the robin draws her attention to an area of disturbed soil. Here Mary finds the key to the locked garden, and eventually she discovers the door to the garden. She asks Martha for garden tools, which Martha sends with Dickon, her 12-year-old brother, who spends most of his time out on the moors. Mary and Dickon take a liking to each other, as Dickon has a kind way with animals and a good nature. Eager to absorb his gardening knowledge, Mary tells him about the secret garden.
One night, Mary hears the cries once more and decides to follow them through the house. She is startled to find a boy of her age named Colin, who lives in a hidden bedroom. She soon discovers that they are cousins, Colin being the son of Archibald, and that he suffers from an unspecified spinal problem which precludes him from walking and causes him to spend all of his time in bed. He, like Mary, has grown spoiled, demanding, and self-centered, with servants obeying his every whim in order to prevent the frightening hysterical tantrums Colin occasionally flies into. Mary visits him every day that week, distracting him from his troubles with stories of the moor, Dickon and his animals, and the secret garden. Mary finally confides that she has access to the secret garden, and Colin asks to see it. Colin is put into his wheelchair and brought outside into the secret garden. It is the first time he has been outdoors for several years.
While in the garden, the children look up to see Ben Weatherstaff looking over the wall on a ladder. Startled to find the children in the secret garden, he admits that he believed Colin to be "a cripple". Angry at being called "crippled", Colin stands up from his chair and finds that his legs are fine, though weak from long disuse. Colin and Mary soon spend almost every day in the garden, sometimes with Dickon as company. The children and Ben conspire to keep Colin's recovering health a secret from the other staff, so as to surprise his father, who is travelling abroad.
As Colin's health improves, his father experiences a coinciding increase in spirits, culminating in a dream where his late wife calls to him from inside the garden. When he receives a letter from Mrs Sowerby, he takes the opportunity finally to return home. He walks the outer garden wall in his wife's memory, but hears voices inside, finds the door unlocked, and is shocked to see the garden in full bloom, and his son healthy, having just won a race against Mary Lennox. The children tell him the story, and the servants watch, stunned, as Archibald and Colin walk back to the manor together.
Book Details
Original Language
English
Genre/Category
Tags/Keywords
Author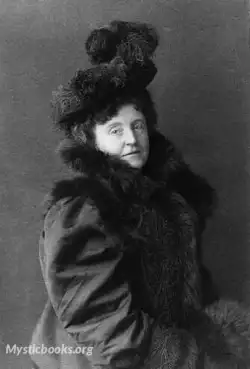 Frances Eliza Hodgson was born in Cheetham, Manchester, England. After her father died in 1853, when Frances was 3 years old, the family fell on straitened circumstances and in 1865 emigrated to the U...
More on Frances Hodgson Burnett
Download eBooks
Listen/Download Audiobook
Reviews for
The Secret Garden
No reviews posted or approved, yet...