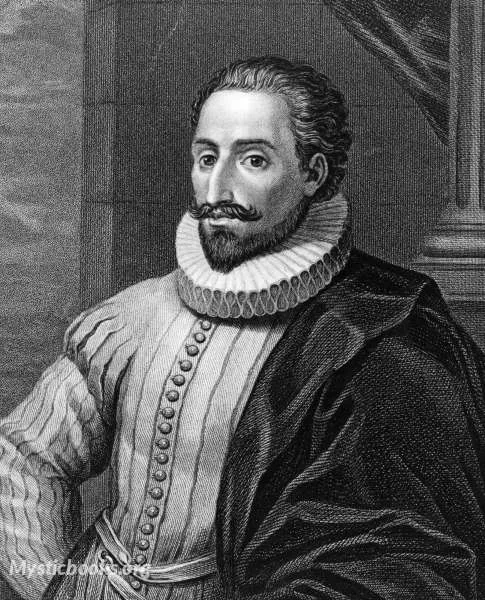 Miguel de Cervantes Saavedra
Soldier, Tax collector
Country:

Spain
Lifetime: 1547 - 1616 Passed: ≈ 406 years ago
Miguel de Cervantes Saavedra (29 September 1547 – 22 April 1616 ) was a Spanish writer widely regarded as the greatest writer in the Spanish language, and one of the world's pre-eminent novelists. He is best known for his novel Don Quixote, a work often cited as both the first modern novel and one of the pinnacles of world literature.
Much of his life was spent in poverty and obscurity, many of its details are disputed or unknown, and the bulk of his surviving work was produced in the three years preceding his death. Despite this, his influence and literary contribution are reflected by the fact that Spanish is often referred to as "the language of Cervantes".
In 1569, Cervantes was forced to leave Spain and moved to Rome, where he worked in the household of a cardinal. In 1570, he enlisted in a Spanish Navy infantry regiment, and was badly wounded at the Battle of Lepanto in October 1571. He served as a soldier until 1575, when he was captured by Barbary pirates; after five years in captivity, he was ransomed, and returned to Madrid.
His first significant novel, titled La Galatea, was published in 1585, but he continued to work as a purchasing agent, then later a government tax collector. Part One of Don Quixote was published in 1605, Part Two in 1615. Other works include the 12 Novelas ejemplares (Exemplary Novels); a long poem, the Viaje del Parnaso (Journey to Parnassus); and Ocho comedias y ocho entremeses (Eight Plays and Eight Entr'actes). Los trabajos de Persiles y Sigismunda (The Travails of Persiles and Sigismunda), was published posthumously in 1616.
Wikipedia

More info about author