 A Scandal in Bohemia
The story follows the renowned detective Sherlock Holmes as he is approached by the King of Bohemia, who seeks his help in preventing a scandal that could ruin his reputation. The king is being blackmailed by a former lover, and Holmes must use his brilliant deductive skills to uncover the truth and prevent the scandal from becoming public knowledge. As with all of Conan Doyle's works, "A Scandal in Bohemia" is a masterclass in mystery writing. The story is full of suspense, intrigue, and unexpected twists and turns that will keep readers on the edge of their seats until the very end. But what really sets the story apart is the character of Sherlock Holmes himself. The world's greatest detective is not only incredibly intelligent and perceptive, but he is also a complex and fascinating character with a unique set of quirks and mannerisms that make him unforgettable. In addition to being a gripping mystery, "A Scandal in Bohemia" also provides a fascinating glimpse into Victorian society. The story takes place in a time when social class and propriety were of utmost importance, and the characters' actions are heavily influenced by these societal norms. Through Holmes' investigation, readers get a sense of what life was like for the wealthy and powerful during this time period, and how their behavior was often governed by the expectations of others. Overall, "A Scandal in Bohemia" is a classic work of literature that should be on every reader's bookshelf. With its intriguing plot, unforgettable characters, and fascinating glimpse into Victorian society, it is a book that has stood the test of time and continues to captivate readers over a century after its initial publication.
'A Scandal in Bohemia' Summary
"A Scandal in Bohemia" is a classic detective story written by the legendary author Sir Arthur Conan Doyle. The story is part of the larger series featuring the famous detective Sherlock Holmes and his trusted partner, Dr. John Watson. The story is set in 19th century London and revolves around a scandalous affair involving the king of Bohemia and a beautiful woman named Irene Adler.
The story begins with the arrival of the king of Bohemia in London. He seeks the help of Sherlock Holmes to recover a compromising photograph of himself with Adler, which could threaten his upcoming marriage to a royal princess. The photograph is in the possession of Adler, who is aware of its importance and has gone into hiding. Holmes takes up the challenge to retrieve the photograph and begins his investigation.
As the story unfolds, Holmes employs his extraordinary analytical skills and disguises to track Adler's movements. He eventually discovers that Adler is planning to leave the country with the photograph and sets up a trap to intercept her. However, Adler proves to be a formidable adversary and outwits Holmes, leaving him in awe of her intelligence and cunning.
Despite his failure to retrieve the photograph, Holmes manages to convince the king that the scandal will not affect his reputation and advises him to let the matter rest. The story ends with Holmes acknowledging Adler's intellect and remarking that she has earned his respect.
"A Scandal in Bohemia" is a gripping tale that showcases the brilliance of Sherlock Holmes and his unmatched deductive abilities. Doyle's writing style is concise and captivating, drawing the reader into the story from the very beginning. The story also touches on themes of loyalty, honor, and the complexities of human nature.
Overall, "A Scandal in Bohemia" is a must-read for fans of detective fiction and anyone who appreciates masterful storytelling. Doyle's creation of the character of Sherlock Holmes has stood the test of time, and this story is a prime example of why he remains one of the most celebrated authors of all time.
Book Details
Original Language
English
Genre/Category
Tags/Keywords
Author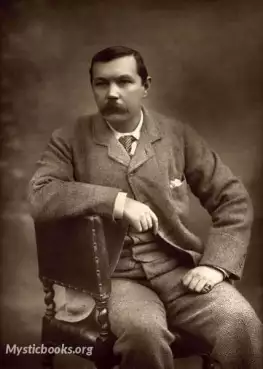 Arthur Conan Doyle was a British author and physician, born on May 22, 1859, in Edinburgh, United Kingdom. He is widely known for his fictional detective stories featuring the iconic character of Sher...
More on Arthur Conan Doyle
Download eBooks
Listen/Download Audiobook
Reviews for
A Scandal in Bohemia
No reviews posted or approved, yet...