 Hedda Gabler
by Henrik Ibsen
Hedda Gabler is a play written by Norwegian playwright Henrik Ibsen. The world premiere was staged on 31 January 1891 at the Residenztheater in Munich. Ibsen himself was in attendance, although he remained backstage. The play has been canonized as a masterpiece within the genres of literary realism, nineteenth century theatre, and world drama. Ibsen mainly wrote realistic plays until his forays into modern drama. Hedda Gabler is a captivating and well-known play from the 1890s that dramatizes the experiences of the title character, Hedda, the daughter of a general, who is trapped in a marriage and a house that she does not want. Overall, the title character for Hedda Gabler is considered one of the great dramatic roles in theater. The year following its publication, the play received negative feedback and reviews. Hedda Gabler has been described as a female variation of Hamlet.
'Hedda Gabler' Summary
Hedda, the daughter of a general, has just returned to her villa in Kristiania (now Oslo) from her honeymoon. Her husband is George Tesman, a young, aspiring, and reliable academic who continued his research during their honeymoon. It becomes clear in the course of the play that she never loved him, but married him because she thinks her years of youthful abandon are over.
The reappearance of George's academic rival, Eilert Løvborg, throws their lives into disarray. Eilert, a writer, is also a recovered alcoholic who has wasted his talent until now. Thanks to a relationship with Hedda's old schoolmate, Thea Elvsted (who has left her husband for him), Eilert shows signs of rehabilitation and has just published a bestseller in the same field as George. When Hedda and Eilert talk privately together, it becomes apparent that they are former lovers.
The critical success of his recently published work makes Eilert a threat to George, as Eilert is now a competitor for the university professorship George had been counting on. George and Hedda are financially overstretched, and George tells Hedda that he will not be able to finance the regular entertaining or luxurious housekeeping that she had been expecting. Upon meeting Eilert, however, the couple discovers that he has no intention of competing for the professorship, but rather has spent the last few years working on what he considers to be his masterpiece, the "sequel" to his recently published work.
Apparently jealous of Thea's influence over Eilert, Hedda hopes to come between them. Despite his drinking problem, she encourages Eilert to accompany George and his associate, Judge Brack, to a party. George returns home from the party and reveals that he found the complete manuscript (the only copy) of Eilert's great work, which the latter lost while drunk. George is then called away to his aunt's house, leaving the manuscript in Hedda's possession. When Eilert next sees Hedda and Thea, he tells them that he has deliberately destroyed the manuscript. Thea is mortified, and it is revealed that it was the joint work of Eilert and herself. Hedda says nothing to contradict Eilert or to reassure Thea. After Thea has left, Hedda encourages Eilert to commit suicide, giving him a pistol that had belonged to her father. She then burns the manuscript and tells George she has destroyed it to secure their future.
When the news comes that Eilert did indeed kill himself, George and Thea are determined to try to reconstruct his book from Eilert's notes, which Thea has kept. Hedda is shocked to discover from Judge Brack that Eilert's death, in a brothel, was messy and probably accidental; this "ridiculous and vile" death contrasts with the "beautiful and free" one that Hedda had imagined for him. Worse, Brack knows the origins of the pistol. He tells Hedda that if he reveals what he knows, a scandal will likely arise around her. Hedda realizes that this places Brack in a position of power over her. Leaving the others, she goes into her smaller room and shoots herself in the head. The others in the room assume that Hedda is simply firing shots, and they follow the sound to investigate. The play ends with George, Brack, and Thea discovering her body.
Book Details
Author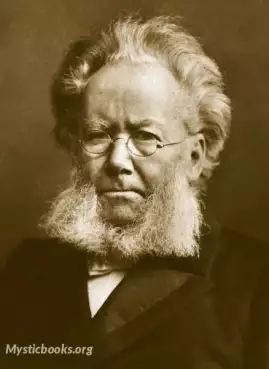 Henrik Johan Ibsen was a Norwegian playwright and theatre director. As one of the founders of modernism in theatre, Ibsen is often referred to as "the father of realism" and one of the most influentia...
More on Henrik Ibsen
Download eBooks
Listen/Download Audiobook
No reviews posted or approved, yet...