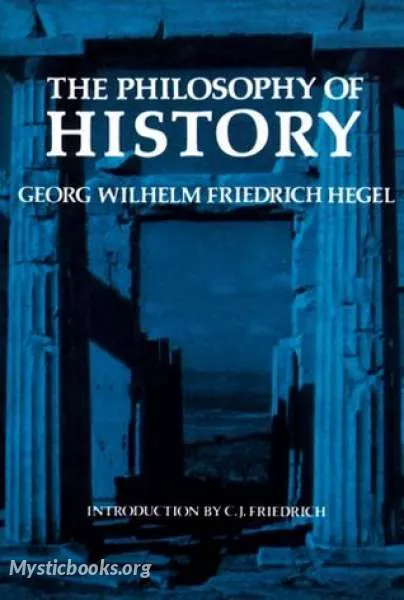 Introduction to The Philosophy of History
by Georg Wilhelm Friedrich Hegel
Lectures on the Philosophy of History, also translated as Lectures on the Philosophy of World History is a major work by Georg Wilhelm Friedrich Hegel (1770–1831), originally given as lectures at the University of Berlin in 1822, 1828, and 1830. It presents world history in terms of the Hegelian philosophy in order to show that history follows the dictates of reason and that the natural progress of history is due to the outworking of absolute spirit.
'Introduction to The Philosophy of History' Summary
Hegel begins by distinguishing three methods or modes of doing history: Original History, Reflective History and Philosophical History. To Original and Philosophic histories, Hegel assigns a single definition; on Reflective History, Hegel offers three sub-definitions.
Original history is like that of Herodotus and Thucydides, these are almost contemporaneous writings limited to deeds, events and states of society which they had before their very eyes and whose culture they shared. Hegel posits the goal of Original history to transfer "what was passing in the world around them, to the realm of representative intellect. An external phenomenon is thus translated into an internal conception. In the same way,the poet operates upon the material supplied him by his emotions; projecting it into an image for the conceptive faculty."
Reflective history is written at some temporal distance from the events or history considered. However, for Hegel, this form of history has a tendency to impose the cultural prejudices and ideas of the historians' era upon the past history over which the historian reflects.
Philosophical history for Hegel, is the true way. Hegel maintains that with philosophical history the historian must bracket his own preconceptions and go and find the overall sense and the driving ideas out of the very matter of the history considered.
Book Details
Original Language
English
Genre/Category
Tags/Keywords
Author
Georg Wilhelm Friedrich Hegel was a German philosopher considered one of the most important figures in German idealism. He is one of the fundamental figures of Western philosophy, with his influence e...
More on Georg Wilhelm Friedrich Hegel
Download eBooks
Listen/Download Audiobook
Reviews for
Introduction to The Philosophy of History
No reviews posted or approved, yet...