 King Solomon's Mines
King Solomon's Mines is the story of the leader Allan Quatermain and his adventurous group of followers on their mission to find the lost brother of an aristocrat, Sir Henry Curtis. Considered similar to Robert Louise Stevenson's novel Treasure Island, Haggard's book proved to be another must-read adventure novel in the international literary world. The African desert hides underneath its sands myths and legends that lasted for centuries in the minds of the locals. Quatermain has a mysterious map that could lead to the ancient mines of the wise King Solomon. The road to discovery is not easy, and the group of adventurers must pass through dangerous and life threatening situations. They are taken prisoner by a local tribe ruled by King Twala, a violent and cruel person who wove his path to the throne by killing his brother and abandoning his sister-in-law in the hot sun of the African desert. The novel presents a whole series of furious battles between the Englishmen and the indigenous tribes, in the end the road to King Solomon's mines being revealed by the maleficent Gagool. The mysteries deepen when Quatermain discovers the body of the adventurer who drew the map to these mines in his own blood. But how will they get to the labyrinth of the mines and find the correct route through? This and many mysteries will keep you riveted as you read this book. King Solomon's Mines is a great book to explore the ancient world and discover wisdom through Haggard's amazing narration.
'King Solomon's Mines' Summary
Allan Quatermain, an adventurer and white hunter based in Durban, in what is now South Africa, is approached by aristocrat Sir Henry Curtis and his friend Captain Good, seeking his help finding Sir Henry's brother, who was last seen travelling north into the unexplored interior on a quest for the fabled King Solomon's Mines. Quatermain has a mysterious map purporting to lead to the mines, but had never taken it seriously. However, he agrees to lead an expedition in return for a share of the treasure, or a stipend for his son if he is killed along the way. He has little hope they will return alive, but reasons that he has already outlived most people in his profession, so dying in this manner at least ensures that his son will be provided for. They also take along a mysterious native, Umbopa, who seems more regal, handsome and well-spoken than most porters of his class, but who is very anxious to join the party.
Travelling by oxcart, they reach the edge of a desert, but not before a hunt in which a wounded elephant claims the life of a servant. They continue on foot across the desert, almost dying of thirst before finding the oasis shown halfway across on the map. Reaching a mountain range called Suliman Berg, they climb a peak (one of "Sheba's Breasts") and enter a cave where they find the frozen corpse of José Silvestre (also spelt Silvestra), the 16th-century Portuguese explorer who drew the map in his own blood. That night, a second servant dies from the cold, so they leave his body next to Silvestra's, to "give him a companion". They cross the mountains into a raised valley, lush and green, known as Kukuanaland. The inhabitants have a well-organised army and society and speak an ancient dialect of IsiZulu. Kukuanaland's capital is Loo, the destination of a magnificent road from ancient times. The city is dominated by a central royal kraal.
Book Details
Original Language
English
Genre/Category
Tags/Keywords
Author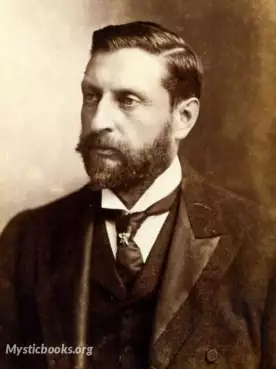 Sir Henry Rider Haggard (22 June 1856 – 14 May 1925) was an English writer of adventure fiction set in exotic locations, predominantly Africa, and a pioneer of the lost world literary genre. He...
More on H. Rider Haggard
Download eBooks
Listen/Download Audiobook
Reviews for
King Solomon's Mines
No reviews posted or approved, yet...