 The Wings of the Dove, Volume 1
by Henry James
The Wings of the Dove is a 1902 novel by Henry James. It tells the story of Milly Theale, an American heiress stricken with a serious disease, and her effect on the people around her. Some of these people befriend Milly with honourable motives, while others are more self-interested.
'The Wings of the Dove, Volume 1' Summary
Kate Croy and Merton Densher are two betrothed Londoners who desperately want to marry but have very little money. Kate is constantly put upon by family troubles, and is now living with her domineering aunt, Maud Lowder. Into their world comes Milly Theale, an enormously rich young American woman who had previously met and fallen in love with Densher, although she has never revealed her feelings. Her travelling companion and confidante, Mrs. Stringham, is an old friend of Maud. Kate and Aunt Maud welcome Milly to London, and the American heiress enjoys great social success.
With Kate as a companion, Milly goes to see an eminent physician, Sir Luke Strett, because she worries that she is suffering from an incurable disease. The doctor is noncommittal but Milly fears the worst. Kate suspects that Milly is deathly ill. After the trip to America where he had met Milly, Densher returns to find the heiress in London. Kate wants Densher to pay as much attention as possible to Milly, though at first he doesn't quite know why. Kate has been careful to conceal from Milly (and everybody else) that she and Densher are engaged.
With the threat of serious illness hanging over her, Milly decides to travel to Venice with Mrs. Stringham. Aunt Maud, Kate and Densher follow her. At a party Milly gives in her Venice palazzo (the older Palazzo Barbaro, called "Palazzo Leporelli" in the novel), Kate finally reveals her complete plan to Densher: he is to marry Milly so that, after her presumably soon-to-occur death, he will inherit the money they can marry on. Densher had suspected this was Kate's idea, and he demands that she consummate their affair before he will go along with her plan.
Aunt Maud and Kate return to London while Densher remains with Milly. Unfortunately, the dying girl learns from a former suitor of Kate's about the plot to get her money. She withdraws from Densher and her condition deteriorates. Densher sees her one last time before he leaves for London, where he eventually receives news of Milly's death. Milly does leave him a large amount of money despite everything. But Densher does not accept the money, and he will not marry Kate unless she also refuses the bequest. Conversely, if Kate chooses the money instead of him, Densher offers to make the bequest over to her in full. The lovers part on the novel's final page with a cryptic exclamation from Kate: "We shall never be again as we were!"
Books in 'The Wings of the Dove' series
The Wings of the Dove, Volume 1 by Henry James
Book Details
Original Language
English
Genre/Category
Tags/Keywords
Author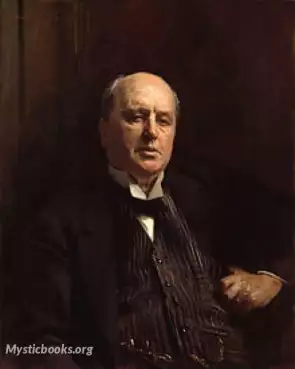 Henry James was born in New York City on April 15, 1843, into a wealthy and intellectually stimulating family. His father, Henry James Sr., was a Swedenborgian philosopher and his mother, Mary Roberts...
More on Henry James
Download eBooks
Listen/Download Audiobook
Reviews for
The Wings of the Dove, Volume 1
No reviews posted or approved, yet...