 The Portrait of a Lady Vol 1
by Henry James
The Portrait of a Lady is a novel by Henry James, first published as a serial in The Atlantic Monthly and Macmillan's Magazine in 1880–81 and then as a book in 1881. It is one of James's most popular novels and is regarded by critics as one of his finest. The Portrait of a Lady is the story of a spirited young American woman, Isabel Archer, who, "affronting her destiny," finds it overwhelming. She inherits a large amount of money and subsequently becomes the victim of Machiavellian scheming by two American expatriates. Like many of James's novels, it is set in Europe, mostly England and Italy. Generally regarded as the masterpiece of James's early period, this novel reflects James's continuing interest in the differences between the New World and the Old, often to the detriment of the former. It also treats in a profound way the themes of personal freedom, responsibility, and betrayal.
'The Portrait of a Lady Vol 1' Summary
Isabel Archer, from Albany, New York, is invited by her maternal aunt, Lydia Touchett, to visit Lydia's rich husband, Daniel, at his estate near London, following the death of Isabel's father. There, Isabel meets her uncle, her friendly invalid cousin Ralph Touchett, and the Touchetts' robust neighbor, Lord Warburton.
Isabel later declines Warburton's sudden proposal of marriage. She also rejects the hand of Caspar Goodwood, the charismatic son and heir of a wealthy Boston mill owner. Although Isabel is drawn to Caspar, her commitment to her independence precludes such a marriage, which she feels would demand the sacrifice of her freedom.
The elder Touchett grows ill and, at the request of his son, Ralph, leaves much of his estate to Isabel upon his death. With her large legacy, Isabel travels the Continent and meets an American expatriate, Gilbert Osmond, in Florence. Although Isabel had previously rejected both Warburton and Goodwood, she accepts Osmond's proposal of marriage, unaware that it has been actively promoted by the accomplished but untrustworthy Madame Merle, another American expatriate, whom Isabel had met at the Touchetts' estate.
Isabel and Osmond settle in Rome, but their marriage rapidly sours, owing to Osmond's overwhelming egotism and lack of genuine affection for his wife. Isabel grows fond of Pansy, Osmond's presumed daughter by his first marriage, and wants to grant her wish to marry Edward Rosier, a young art collector.
The snobbish Osmond would prefer that Pansy accept the proposal of Warburton, who had previously proposed to Isabel. Isabel suspects, however, that Warburton may just be feigning interest in Pansy to get close to Isabel again, and the conflict creates even more strain within the unhappy marriage.
Isabel then learns that Ralph is dying at his estate in England and prepares to go to him for his final hours, but Osmond selfishly opposes this plan. Meanwhile, Isabel learns from her sister-in-law that Pansy is actually the daughter of Madame Merle, who had had an adulterous relationship with Osmond for several years.
Isabel pays a final visit to Pansy, who desperately begs her to return someday, which Isabel reluctantly promises to do. She then leaves, without telling her spiteful husband, to comfort the dying Ralph in England, where she remains until his death.
Goodwood encounters her at Ralph's estate and begs her to leave Osmond and come away with him. He passionately embraces and kisses her, but Isabel flees. Goodwood seeks her out the next day but is told she has set off again for Rome.
The ending is ambiguous, and the reader is left to imagine whether Isabel returned to Osmond to suffer out her marriage in noble tragedy (perhaps for Pansy's sake), or if she is going to rescue Pansy and leave Osmond.
Books in 'The Portrait of a Lady' series
The Portrait of a Lady Vol 1 by Henry James
Book Details
Author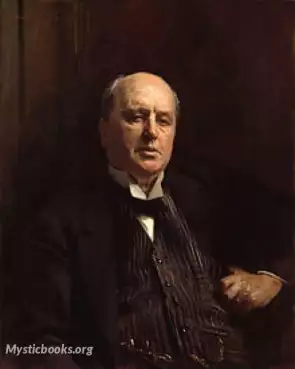 Henry James was born in New York City on April 15, 1843, into a wealthy and intellectually stimulating family. His father, Henry James Sr., was a Swedenborgian philosopher and his mother, Mary Roberts...
More on Henry James
Download eBooks
Listen/Download Audiobook
Reviews for
The Portrait of a Lady Vol 1
No reviews posted or approved, yet...