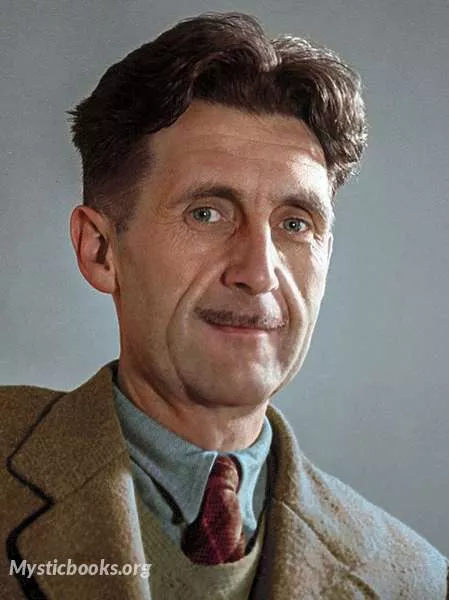 George Orwell
Novelist, Essayist, Journalist and Literary critic
Country:

England
Lifetime: 1903 - 1950 Passed: ≈ 73 years ago
Orwell's work remains influential in popular culture and in political culture, and the adjective "Orwellian"—describing totalitarian and authoritarian social practices—is part of the English language, like many of his neologisms, such as "Big Brother", "Thought Police", "Two Minutes Hate", "Room 101", "memory hole", "Newspeak", "doublethink", "proles", "unperson", and "thoughtcrime".
"Orwellian" is an adjective describing a situation, idea, or societal condition that George Orwell identified as being destructive to the welfare of a free and open society. ... The New York Times has said the term is "the most widely used adjective derived from the name of a modern writer".
George Orwell is a pen name his real name was Eric Arthur Blair. He was born on 25 June 1903 in Motihari, Bihar, British India. His great-grandfather, Charles Blair, was a wealthy country gentleman in Dorset who married Lady Mary Fane, daughter of the Earl of Westmorland, and had income as an absentee landlord of plantations in Jamaica. His grandfather, Thomas Richard Arthur Blair, was a clergyman. Eric Blair described his family as "lower-upper-middle class". His father, Richard Walmesley Blair, worked in the Opium Department of the Indian Civil Service. His mother, Ida Mabel Blair (née Limouzin), grew up in Moulmein, Burma, where her French father was involved in speculative ventures. Eric had two sisters: Marjorie, five years older; and Avril, five years younger. When Eric was one year old, his mother took him and Marjorie to England. His birthplace and ancestral house in Motihari is now a historical monument.
Before the First World War, the family moved to Shiplake, Oxfordshire where Eric became friendly with the Buddicom family, especially their daughter Jacintha. When they first met, he was standing on his head in a field. Asked why, he said, "You are noticed more if you stand on your head than if you are right way up." Jacintha and Eric read and wrote poetry, and dreamed of becoming famous writers. He said that he might write a book in the style of H. G. Wells's A Modern Utopia. During this period, he also enjoyed shooting, fishing and birdwatching with Jacintha's brother and sister.
In an autobiographical piece that Orwell sent to the editors of Twentieth Century Authors in 1940, he wrote: "The writers I care about most and never grow tired of are: Shakespeare, Swift, Fielding, Dickens, Charles Reade, Flaubert and, among modern writers, James Joyce, T. S. Eliot and D. H. Lawrence. But I believe the modern writer who has influenced me most is W. Somerset Maugham, whom I admire immensely for his power of telling a story straightforwardly and without frills." Elsewhere, Orwell strongly praised the works of Jack London, especially his book The Road.
George Orwell's Notable works:
Animal Farm, Nineteen Eighty-Four, Homage to Catalonia, Down and Out in Paris and London, The Road to Wigan Pier.
Wikipedia

More info about author