 Moving the Mountain
Moving the Mountain is a feminist utopian novel written by Charlotte Perkins Gilman. It was published serially in Perkins Gilman's periodical The Forerunner and then in book form, both in 1911. The book was one element in the major wave of utopian and dystopian literature that marked the later nineteenth and early twentieth centuries. The novel was also the first volume in Gilman's utopian trilogy; it was followed by the famous Herland (1915) and its sequel, With Her in Ourland (1916).
'Moving the Mountain ' Summary
The novel opens with a brief scene written in the third person: at a remote location in Tibet, a man in local costume, backed by a group of native people, confronts a woman at the head of an exploratory expedition. There is a sudden sense of realization as the man and woman recognize each other as siblings; the man collapses, overcome by shock.
The story then switches to a first-person account, written by John Robertson after his meeting with his sister Ellen. Thirty years earlier, at the age of 25, Robertson had been traveling through rural Tibet; wandering away from his party, he had gotten lost and had fallen over a precipice. He was nursed back to health by local villagers, but his memory was deeply impaired. It was only when his sister found him that he regained his recollection. He returns to the United States with her, to face a society that is vastly different from the one he knew in his youth.
Around 1920, while Robertson was living obscurely in Tibet, America had adopted a system of economics described as being "beyond Socialism", a strain of nationalism that answered all the questions posed by socialism without actually being socialist, renovating its society and culture; and from there it had continued to develop into a more efficient nation, through "social evolution" and a vague "new religion". Robertson is surprised to learn that his sister is the president of a college – and is astounded to realize that she is a married college president. He meets his brother-in-law and nephew and niece, and is repeatedly challenged in his traditional attitudes. He is not a feminist; on the ship homeward he meets an attractive and vivacious young woman, and thinks of her, "My sister must have been mistaken about her being a civil engineer. She might be a college girl – but nothing worse."
Book Details
Author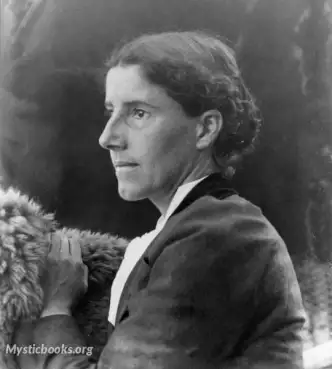 Charlotte Perkins Gilman, also known as Charlotte Perkins Stetson, her first married name, was an American humanist, novelist, writer of short stories, poetry and nonfiction, and a...
More on Charlotte Perkins Gilman
Download eBooks
Listen/Download Audiobook
Reviews for
Moving the Mountain
No reviews posted or approved, yet...