 The Father
The Father is a naturalistic tragedy by Swedish playwright August Strindberg, written in 1887. It is about the struggle between parents over the future of their child; resulting in the mother, using her cunning manipulative skills, subduing and finally destroying the father.
'The Father' Summary
Captain Adolph, an officer of the cavalry, and his wife, Laura, have a disagreement regarding the education of their daughter Bertha. Laura wants her to stay at home and become an artist, while Adolph wants Bertha to move into town and study to be a teacher. Adolph says that his decision is final, and that the law supports him, because, he points out, the woman sells her rights when she agrees to be married. The argument grows and becomes fierce.
Laura, cunning & manipulative, suggests that Adolph may in fact have no rights in the matter. Laura lies to the family doctor that Adolph may be mad, because, as an amateur scientist, he thinks he has discovered life on another planet by looking through a microscope. Adolph in fact has discovered signs of organic life by studying meteorites through a spectroscope. Laura also reveals to the doctor that she has obtained a letter that Adolph once wrote confessing that he himself feared he might go mad.
Trapped in Laura's web of manipulation, Adolph becomes frustrated and responds with violence — he throws a burning lamp in the direction of his wife as she exits. The moment he does that, he is sunk. He realizes that Laura has cunningly provoked him to commit this irrational act, which then becomes the pretext for having him committed. While waiting for the straitjacket to arrive, the pastor tells Laura she is incredibly strong. "Let me see your hand! Not one incriminating spot of blood to give you away!" he says, "One little innocent murder that the law can't touch; an unconscious crime!"[1] In a scene of intense emotional pathos, it is Margaret, the captain's old nurse, who cajoles the captain, who indeed has now been driven mad, into a straitjacket. Laura is presented as having a stronger will than her husband, who says to her: "You could hypnotize me when I was wide awake, so that I neither saw nor heard, only obeyed." As the captain suffers a stroke and dies, Bertha rushes to her mother, who exclaims, "My child! My own child!" as the pastor says, "Amen".
Book Details
Author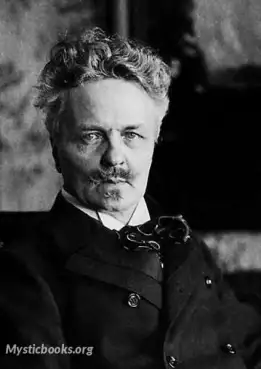 Johan August Strindberg was a Swedish playwright, novelist, poet, essayist and painter. A prolific writer who often drew directly on his personal experience, Strindberg's career spanned four decades,...
More on August Strindberg
Download eBooks
Listen/Download Audiobook
No reviews posted or approved, yet...