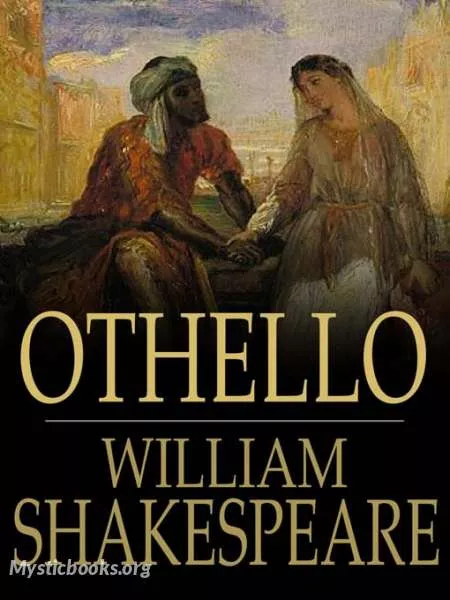 Othello (The Tragedy of Othello, the Moor of Venice) is a tragedy by William Shakespeare, probably written in 1603. The story revolves around two characters, Othello and Iago. Othello is a Moorish general in the Venetian army charged with the generalship of Venice on the eve of war with the Ottoman Turks over the island of Cyprus. He has just married Desdemona, a beautiful and wealthy white Venetian, much younger than he, against the wishes of her father. Iago is Othello's jealous and bitter ensign who maliciously goads his master's jealousy until the usually stoic Moor kills his beloved wife in a fit of blind rage. Due to its enduring themes of passion, jealousy and race, Othello is still widely performed and has inspired numerous adaptations.
Act I
Roderigo, a wealthy and dissolute gentleman, complains to his friend Iago, an ensign, that Iago has not told him about the secret marriage between Desdemona, the daughter of a senator named Brabantio, and Othello, a Moorish general in the Venetian army. Roderigo is upset because he loves Desdemona and had asked her father, Brabantio, for her hand in marriage.
Iago hates Othello for promoting a younger man named Cassio above him, whom Iago considers a less capable soldier than himself, and tells Roderigo that he plans to exploit Othello for his own advantage. Iago convinces Roderigo to wake Brabantio and tell him about his daughter's elopement. Meanwhile, Iago sneaks away to find Othello and warns him that Brabantio is coming for him.
Brabantio, provoked by Roderigo, is enraged and will not rest until he has confronted Othello, but he finds Othello's residence full of the Duke of Venice's guards, who prevent violence. News has arrived in Venice that the Turks are going to attack Cyprus, and Othello is therefore summoned to advise the senators. Brabantio has no option but to accompany Othello to the Duke's residence, where he accuses Othello of seducing Desdemona by witchcraft.
Othello defends himself before the Duke of Venice, Brabantio's kinsmen Lodovico and Gratiano, and various senators. Othello explains that Desdemona became enamoured of him for the sad and compelling stories he told of his life before Venice, not because of any witchcraft. The senate is satisfied once Desdemona confirms that she loves Othello, but Brabantio leaves saying that Desdemona will betray Othello: "Look to her, Moor, if thou hast eyes to see. She has deceived her father, and may thee," (Act I, Sc 3). Iago, still in the room, takes note of Brabantio's remark. By order of the Duke, Othello leaves Venice to command the Venetian armies against invading Turks on the island of Cyprus, accompanied by his new wife, his new lieutenant Cassio, his ensign Iago, and Iago's wife, Emilia, as Desdemona's attendant.
Act II
The party arrives in Cyprus to find that a storm has destroyed the Turkish fleet. Othello orders a general celebration and leaves to consummate his marriage with Desdemona. In his absence, Iago gets Cassio drunk, and then persuades Roderigo to draw Cassio into a fight. Montano tries to calm down an angry and drunk Cassio and this leads to them fighting one another, resulting in Montano being injured. Othello reenters and questions the men as to what happened. Othello blames Cassio for the disturbance and strips him of his rank. Cassio, distraught, is then persuaded by Iago to ask Desdemona to persuade her husband to reinstate him. She then succeeds.
Community Reviews for
Othello
No reviews posted or approved, yet...