 Titus Andronicus
Titus Andronicus is a tragedy by William Shakespeare believed to have been written between 1588 and 1593, probably in collaboration with George Peele. It is thought to be Shakespeare's first tragedy and is often seen as his attempt to emulate the violent and bloody revenge plays of his contemporaries, which were extremely popular with audiences throughout the 16th century.
'Titus Andronicus' Summary
The play begins shortly after the death of the Roman emperor, with his two sons, Saturninus and Bassianus, quarrelling over who will succeed him. Their conflict seems set to boil over into violence until a tribune, Marcus Andronicus, announces that the people's choice for the new emperor is Marcus's brother, Titus, who will shortly return to Rome from a victorious ten-year campaign against the Goths. Titus subsequently arrives to much fanfare, bearing with him as prisoners Tamora, Queen of the Goths, her three sons Alarbus, Chiron, and Demetrius, and Aaron the Moor who is her secret lover. Despite Tamora's desperate pleas, Titus sacrifices her eldest son, Alarbus, to avenge the deaths of his own sons during the war. Distraught, Tamora and her two surviving sons vow to obtain revenge on Titus and his family.
Meanwhile, Titus refuses the offer of the throne, arguing that he is not fit to rule and instead supporting the claim of Saturninus, who then is duly elected. Saturninus tells Titus that for his first act as emperor, he will marry Titus's daughter Lavinia. Titus agrees, although Lavinia is already betrothed to Saturninus's brother, Bassianus, who refuses to give her up. Titus's sons tell Titus that Bassianus is in the right under Roman law, but Titus refuses to listen, accusing them all of treason. A scuffle breaks out, during which Titus kills his own son, Mutius. Saturninus then denounces the Andronici family for their effrontery and shocks Titus by marrying Tamora. Putting into motion her plan for revenge, Tamora advises Saturninus to pardon Bassianus and the Andronici family, which he reluctantly does.
During a royal hunt the following day, Aaron persuades Demetrius and Chiron to kill Bassianus, so they may rape Lavinia. They do so, throwing Bassianus's body into a pit and dragging Lavinia deep into the forest before violently raping her. To keep her from revealing what has happened, they cut out her tongue and cut off her hands. Meanwhile, Aaron writes a forged letter, which frames Titus's sons Martius and Quintus for the murder of Bassianus. Horrified at the death of his brother, Saturninus arrests Martius and Quintus, and sentences them to death.
Sometime later, Marcus discovers the mutilated Lavinia and takes her to her father, who is still shocked at the accusations levelled at his sons, and upon seeing Lavinia, he is overcome with grief. Aaron then visits Titus and falsely tells him that Saturninus will spare Martius and Quintus if either Titus, Marcus, or Titus' remaining son, Lucius, cuts off one of their hands and sends it to him. Titus has Aaron cut off his (Titus') left hand and sends it to the emperor but, in return, a messenger brings Titus Martius and Quintus' severed heads, along with Titus' own severed hand. Desperate for revenge, Titus orders Lucius to flee Rome and raise an army among their former enemy, the Goths.
Later, Lavinia writes the names of her attackers in the dirt, using a stick held with her mouth and between her mutilated arms. Meanwhile, Tamora secretly gives birth to a mixed-race child, fathered by Aaron. Aaron kills the nurse to keep the child's race a secret and flees with the baby to save it from Saturninus' inevitable wrath. Thereafter, Lucius, marching on Rome with an army, captures Aaron and threatens to hang the infant. In order to save the baby, Aaron reveals the entire revenge plot to Lucius.
Book Details
Author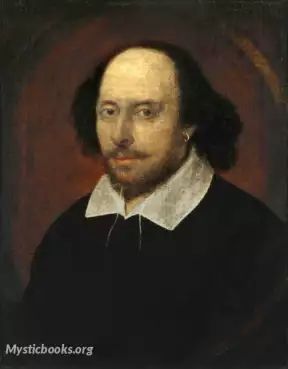 William Shakespeare was born on April 23, 1564, in Stratford-upon-Avon. The son of John Shakespeare and Mary Arden, he was probably educated at the King Edward VI Grammar School in Stratford, where he...
More on William Shakespeare
Download eBooks
Listen/Download Audiobook
Reviews for
Titus Andronicus
No reviews posted or approved, yet...